Byzantine and Russian style Orthodox icons
Our Iconographic Studio – 'Ikonopisnaya' offers wide range of orthodox handmade painted Byzantine and Russian style icons on wood and frescoes on canvas with gold leaf. All icons are painted in egg-tempera with the best quality colors according to the Byzantine hagiography old traditions and rules. The gilding technique is burnished gold.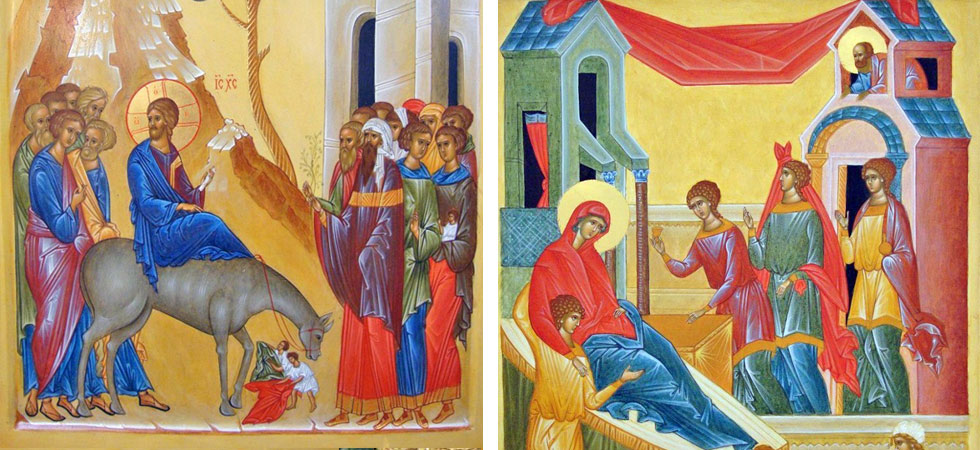 Well-known Orthodox icons from Russia
The tradition of Orthodox Icon is known world wide. Orthodox Icons are famous for their distinctive style of painting and its influence on European cultural development. Our icon painter studio introduces the visitors to many of unique masterpieces in icon-painting art.

We present a big selection of orthodox icons for many different occasions, many of them made with the beautiful frame embellishment. The icons of our Lord Jesus Christ, the icons of Mother of God, the Festal icons, the icons of Holy Saints — all are wonderful works of Eastern artisans.
Orthodox Icons take their origins from Byzantine and carry that traditions through the centuries of Christian faith. We are sure you will find stunning pieces, if you are a collector, a Christian believer or if you are just appreciate beautiful expression of orthodox faith. All icons are painted on a wooden base.
Payments
You may order your personal original Orthodox Russian Icon and pay via Bank Wire Transfer or Paypal. It is possible to purchase icons from our European reseller. Please contact us to get more details.
Shipping
We ship icons worldwide via major shipping companies in special cases with hard protection. Parcels are insured and have tracking number, we provide customers tracking info right after shipping. Usually it takes up to 10-20 business days to deliver genuine orthodox icons from Russia.
Contacts
Please contact us via email to estimate your custom project.
Ekaterina Morokhina
E-mail: ekaterina.morokhina@gmail.com
Our office address:
28/30 Sadovaja str,
St.Petersburg, Russian Federation